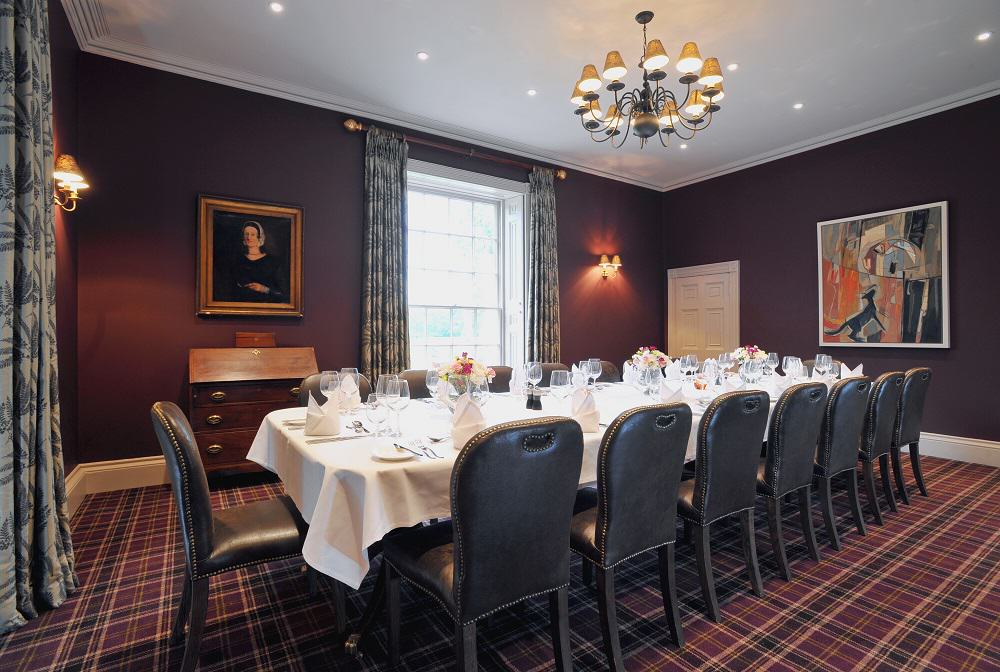 The Writing Room and bedroom refurbishment 2016

Work at the hotel began on 12th January 2016. This was to refurbish 8 main house bedrooms, all the corridors and the Writing Room.
The Writing Room has many guises. It is used for weddings, dinner parties, anniversary lunches, meetings and much much more, so we had to think very hard about losing the red colour and opting for a deep Aubergine or in Farrow and Ball language, "Bringal." Chairs from OKA, carpet from Wilton, with Kernow fabric in a delicate pattern of scattered ferns from the new Zoffany collection. Large mirror above the fireplace from Scumble Goosie and fireplace wood design thanks to Ben one of our gardeners. The main feature in this room is our painting called "The Night Hunters" by local artist Rachel Lockwood, especially as we have a barn owl living in the tree outside The Writing Room.
The corridors followed through the Portland Stone colour by Little Greene which is featured in the main hallway on the ground floor and specially woven carpet by Wilton. You will be greeted on the stairs by "Vanessa" our beautiful sculpture by Sculptures in Bronze. Bedrooms have been individually designed along the classic meets contemporary theme which we first adopted when refurbishing the public rooms in 2013. It was important that each room had its' own individual character in keeping with the Georgian House yet left feeling modern and fresh. Illuminations were key to creating the right atmosphere and we have used East Anglian based company Jim Lawrence for much of the individual lights and shades.
It is impossible to describe everything but some standout features from each room are the March Hare wallpaper by Jane Churchill in Jacobs Ladder. The massive headboard in Clover which proved challenging getting it into the room in one piece. Chairs are from Loaf, footstool and mirrors from Neptune. Bath from BC designs and floor tiles from Fired Earth. Curtain fabric by Nina Campbell called Fontibre.
Dandelion – restoring the honeymoon suite a highlight. With its own sitting room and private balcony overlooking the parkland. It has been restored as a sumptuous love nest in shades of teal and features a free standing Kurv bath by BC designs in the bedroom and a rain shower in the large wetroom. The bed was made from Canadian Cherry wood and literally inspired by the four posts of the bed which were found at the back of a very dusty old warehouse. Larkhall wallpaper in a soft-coloured damask by Colefax and Walker and flowing silk curtains. Sitting Room furniture from Neptune.
Hollyhock – Headboards restored from a Victorian single bed, desk from Scumble Goosie and Munchkin chairs by Loaf. Curtain fabric by Harlequin called Tembok
Honeysuckle– Bed was restored and stretched by Bono Beds. Lights by Fritz Fryer. Wardrobe from OKA and munchkin chairs from Loaf. Pink stool from OKA and Curtain fabric by Harlequin called Amazilia Paradise
Chervil – Wallpaper is Feather Grass by Farrow & Ball, chairs from Catebys in Cambridge, desk mirror supplied by Graham & Greene. Curtain fabric by Designers Guild, antionette.
Bluebell – Headboard specially made for us – chairs by Catebys in Cambridge, Curtains by Romo
Betony – Bed from Andsoto bed. Munchkins chairs and wardrobe from Loaf. Mirror from Neptune, desk mirror Graham & Greene. Painting "Norfolk Marshes" by Debbie Scott fitted the colours of the room perfectly. Curtain fabric by Designers Guild, floreale grande.
A special thanks to Adi Ellis whose patience and brilliant eye for detail has guided us through this part of the project. To Chris at Graham's in Colchester who helped us with the bathroom design and sourcing of the bathroom amenities. Copeland Interiors for the curtain making and the project team, Paul Underwood, Michael McDermid and Steve Tall for their commitment.