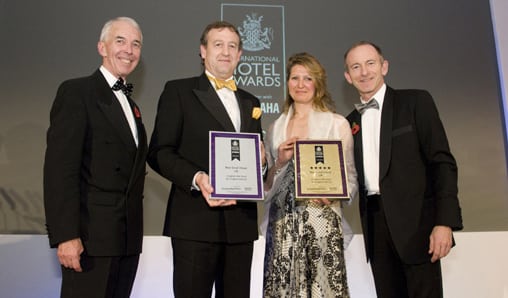 Congham wins the Best Small Hotel UK 2012-2013 at The International Hotel Awards

Congham Hall was named Best Small Hotel 2012-2013 at The International Hotel Awards 2012 (www.ihotelawards.com). The award was announced at a high profile gala dinner held on Sunday 4th November at the London Marriott Hotel Grosvenor Square and was presented to Nicholas Dickinson and Ruth Gallop, both directors of the hotel.
As well as winning Best Small Hotel in the UK, Congham Hall was shortlisted for Best Small Hotel in the world, narrowly losing out to Aleenta Resort and Spa Phuket, Phang Nga, Thailand.
The International Hotel awards have been running for 18 years and aims to seek out the best hotels, across a wide range of categories, in each country. Developed to identify, highlight and reward excellence throughout the global hospitality industry, the International Hotel Awards seek the finest operations throughout a wide range of areas. In addition to categories for all manner of different sized and specifically targeted hotels, there are also sections for the best hotel architecture, interior design, marketing and website.
"This is a tremendously prestigious accolade and testament to the dedication of every member of the Congham Hall team," commented Nicholas Dickinson, after winning the award. "I am very proud of their achievements."
The hotel team is especially proud because it was nominated anonymously by a guest who visited within months of the takeover of Congham Hall in March 2012.